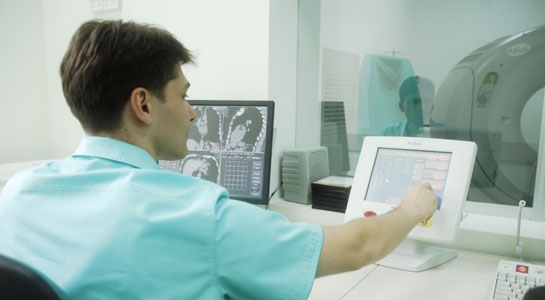 In the Diagnostic department of Universal Clinic "Oberig" we combine excellent specialist and full range sophisticated modern diagnostic equipment that can detect various diseases even on the earliest stages. We pay special attention to the training of doctors, who use the opportunities of the available equipment at 100%. We fully understand that the conclusions are not prescribed by the machine but reasonable and experienced doctors, on whose skill and accuracy depends the accuracy of the diagnosis.
In diagnostic department there is an opportunity to perform such diagnostic procedure as:
Magnetic Resonance Imaging (MRI)
Multidetector computer tomography (CT)
Ultrasonography (ultrasound)
X-ray
Mammography
In addition clinic has a possibility to perform the gastrointestinal endoscopy (GIE, gastroscopy, colonoscopy) for the detection of gastrointestinal tract diseases.
Trust your health to the professionals! You can arrange an appointment by a phone number (044) 390 03 03.