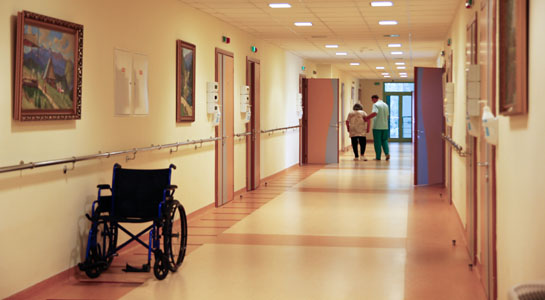 Stroke Center is a specialized unit at clinic 'Oberig' that provides comprehensive care for stroke patients from the onset to maximal recovery of all functions. The Center, which comprises a Stroke Unit, a Neurorehabilitation Ward and a Ward for Long-Term Disorders of Consciousness (Vegitative States, Сoma), aims to incorporate best international practices (eg, seen in leading Austrian and British centers).
Patients admitted to the Stroke Center take advantage of comprehensive acute care (full cycle of diagnostics, treatment and the neurorehabilitation) as well as optimal secondary prevention, evaluation of their needs and rehabilitation potential, development and realization of the individual rehabilitation program (InRP). According to current European protocols and best clinical practice guidelines, our team uses only the interventions with proven safety and effectiveness in order to improve motor, sensory, language and psycho-emotional impairments and help our patients achieve their goals.
Neurorehabilitation is carried out by a multidisciplinary rehabilitation team: physicians, nurses, physical therapists, occupational therapists, speech and language pathologists, and a neuropsychologist. In addition to special exercises, we use some special training equipment such as a MotoMed 2, a Balance Trainer, a Tilt-table, Hand Tutor gloves etc.
Our Stroke Center provides excellent conditions for recovery after a stroke including comfortable one-bed or two-bad patient rooms having all necessary equipment, two special gyms, a hall with rails, and a lounge.
Expertise and hard work of Stroke Center multidisciplinary rehabilitation team along with use of the state-of-the-art Neurorehabilitation throughout the course of the disease allow most our patients to recover to the stage when not only they can be discharged home safely, but can enjoy their life again. We also offer a wide range of out-patient rehabilitation and long-term follow-up at our clinic.
Our goal is to help our patients to beat their stroke and resume active and enjoyable life.
Together — we will win!