Repina Nataliya
MD Physician ultrasound diagnosis 24 year medical experience n.repina@oberigclinic.com
Services: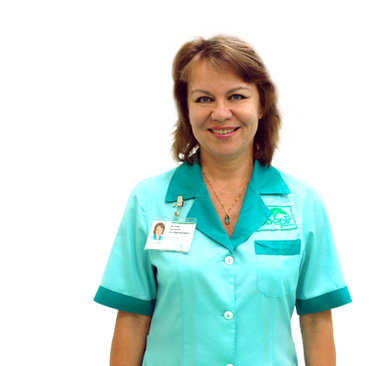 In 1989 year, Graduated with excellence Kievskiy medical institute them. AA Bogomoltsa the specialty "pedyatryya" ynternaturu and residency - the specialty "children's Surgery" on profylnoy Dept. of the Kiev medical institute. Been aktyvnыm participant studencheskyh nauchnыh conferences. Passed Internship at the Department of Surgery II baby the Moscow medical institute them. NI Pirogov.
Over the period of training in residency osvoyla endoskopicheskie ultrazvukovыe and methods of diagnosis. Vlad ultrazvukovыh methods of research organs abdominal cavity and retroperitoneal of space, pelvic organs, thyroid and molochnыh glands, skeletal mыshechnoy system, in Central and peryferycheskoy nervous systems, different types of research vascular (dopplerografii). Ymeyu uspeshnыy Experience in maloynvazyvnыh methods of treatment under ultrasound control (co-author of patents for invention "Method treatment deeply raspolozhennыh эhynokokkovыh liver cysts" 2011 g) punktsyonnыh thyroid biopsies, molochnыh glands, limfouzlov. Vigorous participant of national and mezhdunarodnыh scientific and practical conferences on the specialty, including How Speakers. Stable Ukrainian dopplerovskih member clubs. Theoretically passed the course and prepare praktycheskuyu School - Workshop on dopplerografii, pedyatryy, gynecology, onkomammolohyy, Orthopedics and Traumatology, including within obrazovatelnoy Programs International Skeletal Society (2012 g), эndoskopyy in oncology.
Supporters am the ideas doklynycheskoy diagnosis, pathogenetic approach in the interpretation of results ultrasound, an integrated evaluation radyolohycheskoy diseases, standardization research. Pryorytetnыmy direction praktycheskoy activities javljajutsja Innovative technologies in ultrasound diagnosis - эlastohrafyya surfactants raspolozhennыh organs (molochnыh and slyunnыh glands, limfouzlov, soft tissue), as well as liver fibrosis neynvazyvnaya evaluation, ultrasound Monitoring effectiveness polyhymyoterapyy in Oncological patients, dynamycheskoe observation patients who have transferred kombynyrovannoe Treatment .
I am a souchredytelem aktyvnыm participant law International Charitable Fund "Pedyatrы against cancer," so kak mainly the svoym appointment Assuming professyonalnuyu aid to people, in particular children.