Стеценко Валерий Александрович
Врач-уролог
Высшая категория
25 лет медицинского стажа

Services: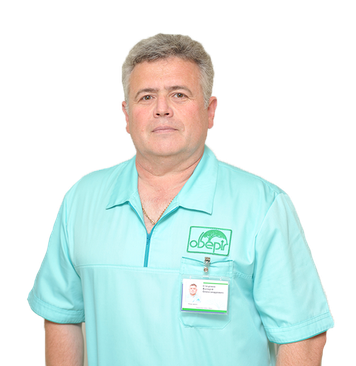 Services
В 1994 г. окончил Полтавский Государственный медицинский стоматологический институт (лечебный факультет). В 1994-1997 гг. был слушателем Украинской военно-медицинской академии в г. Киев (УВМА). В 1999г. закончил магистратуру по урологии при УВМА.
В 2002-2003 гг. проходил стажировку в госпитале г. Гамбург (Германия), а в 2015-2016 гг. – стажировку в госпитале г. Ульм (Германия).
Участие в международных конгрессах:
06.-09.05.15 – 56.Jahrestagung der Südwestdeutschen Gesellschaft in Friedrichshafen (Германия);
24.09.15-26.09.15 – 67.Kongress der Deutschen Gesellschaft für Urologie in Hamburg (Германия);
25.02.16-27.02.16 – 32.Deutscher Krebskongress in Berlin (Германия);
11.03-15.03.16 – 31st Annual Congress of the European Assotiation of Urology, Munich (Германия).
С 1997 г. по май 2019 г. работал старшим ординатором урологического отделения Национального военно-медицинского клинического центра «ГВКГ» МОУ. В 2017 г. принимал участие в АТО на Донбассе.
Мои профессиональные интересы:
Дистанционная, чрескожная и контактная лазерная литотрипсия;
Малоинвазивные операции в урологии (трансуретральная резекция доброкачественной гиперплазии предстательной железы (аденома простаты) и опухолей мочевого пузыря);
Пластические операции на верхних и нижних отделах мочевыводящих путей;
Радикальная нефрэктомия, резекция почки, радикальная простатэктомия.
Хобби: фото, путешествие, музыка.