Vaccination room of the clinic "Oberig" offers according to the European standards vaccination with intellect for children and their parents. We know crucial criteria of qualitative and safe vaccination and we ensure it to every child.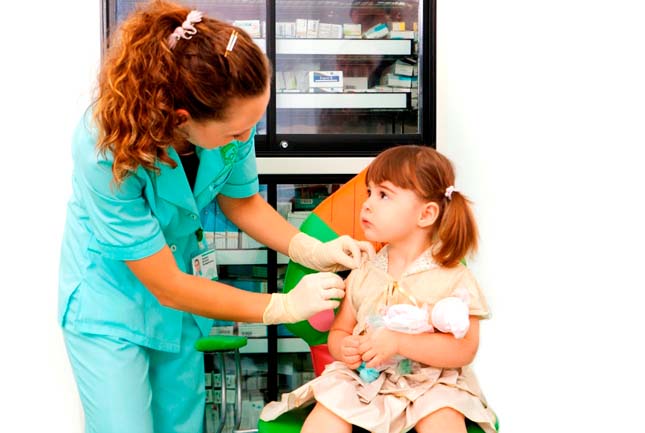 Vaccination (vaccination for adults and children)
What Vaccination room of clinic "Oberig" is?
Competent, certified by UNICEF pediatricians who have perennial experience with children's vaccination.
Constant availability of all vaccines which are listed in National Immunization Schedule and recommended by Health Ministry of Ukraine.
Vaccines of the world's leading producers, such as Sanofi-Aventis, , Glaxo Smith Kline (GSK), MSD
Special transport and stationary cold chambers, which are equipped by automatic temperature control to maintain the demands of "cold chain" (t +5). It's very important to ensure the quality of vaccines.
Adaptation of individual schedule vaccination for every child, in response to his/her individual characteristics.
Why we are called children's vaccination experts?
Individual adaptation of National Immunization Schedule. Every child is individual. Every child has own disease history and we adapt individually immunization schedule for each child. Due to this, it is physically and emotionally much easier to tolerate vaccination. Beside these vaccines that are in the list of National Immunization Schedule, we offer our little patients vaccines that are recommended by Health Ministry and are not purchased for mass immunization. We can vaccinate foreign children according to the USA or European Union schedule. Minimization of "challenge" vaccination. Parents approached us whose children were denied in vaccination because of being allergic or having certain neurological diseases. We vaccinate all: almost no absolute contraindications! The individual approach to the child. High quality of vaccines provides lack of complications from vaccination. For the whole period of immunization room we have not observed severe complications from vaccinations.
The best world's vaccines. The key to successful vaccination is a quality of injected vaccine, the rules of its transport and storage. In the clinic "Oberig", we use vaccines of the leading producers (GSK, Aventis, MSD) with a high safety profile.
DTP (dipheteria, tetanus toxoids and pertussis ) are used only combined vaccines acellular pertussis element in which no mercury in preservative.
Polio – is used inactive vaccine which prevents the occurrence of vaccine-associated polio among children.
Haemophilus influenzae /Hib influenzae – protect children from purulent meningitis, pneumonias and otitis.
Measles, rubella, mumps-are held by combined vaccine with modern strains.