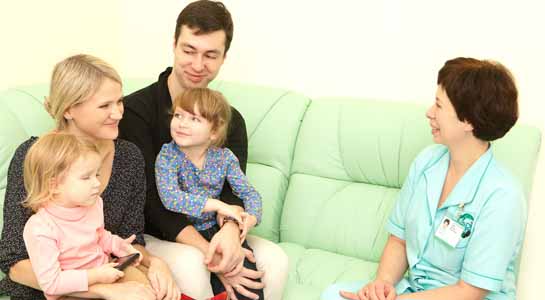 The Pediatric Unit of Universal Clinic "Oberig" is considered one of the best not only in Kiev. A particular advantage of the Unit is considered unlimited possibilities in the diagnosis and the highest level of medical service. Many patients, comparing us with other private clinics, stop their choice on our pediatric service as a matter of high standard, not only for diagnostic and treatment options but for the same level of cleanliness and comfort.
Like any other private clinic, we care about our reputation and do everything to bring our young patients the joy of healthy life, because we are specialists, who are considered to be the best, with an spotless reputation and invaluable experience.
An important aspect is the choice of doctor. This matter should be taken seriously, because frequent changes of doctors is not conducive to the effectiveness of treatment. Each doctor takes time out to deeper acquainted with the peculiarities of the body of the child and with his reactions to various treatments. In addition, the atmosphere of mutual understanding and trust between the child and the doctor too often comes not at once, but as a result of a long dialogue.
Pediatric Service: sense and simplicity - 7 reasons to smile:
The basis of the philosophy of medicine (an ancient Greek,- φιλοσοφία — «love to sapience», «wisdom», from φιλέω — love and σοφία — wisdom), including in Pediatrics - prevention rather than treatment. Not every illness requires treatment. "SMART MEDICINE" - the main direction of the pediatric service of the Universal clinic "Oberig". But still, if you want to ...

"In our clinic a little patient can get the full range of consultative and diagnostic, therapeutic and preventive care, ensuring the own success in the healthy growth and progress.

The use of techniques based on modern principles of evidence-based medicine and advanced equipment only an expert-class, with the lowest possible load, ensure the implementation of previously unavailable methods of treatment and diagnosis.

The professionalism of our doctors will help our patients to minimize the risk of complications, unforeseen situations and will keep your composure.

Pediatric in-patient hospital - along with the winter garden – makes area of comfort. Specially designed interior of comfortable hospital rooms creates a homely atmosphere.

The joint stay of parents with the child in the same room reflects a family-oriented approach to the treatment of the child.

Consultations of highly qualified specialists, who are considered to be the best, with an spotless reputation and invaluable experience.
521 03 03 Seven numbers of your child's health 521 03 03