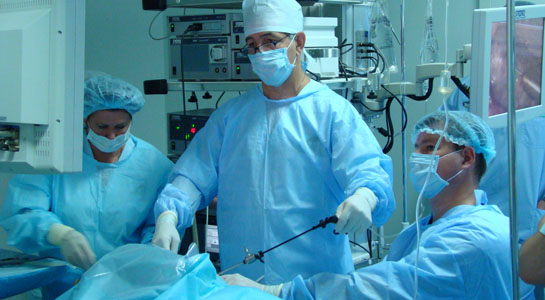 Today the Center works in three main directions:
Pediatric Laparoscopic surgery
This direction of work of the Center allows to carry out all range of surgery interventions at young age, as in a planned order (inguinal hernias, varicocele, cystic formations of a liver and a lien, a cryptorchidism, diseases of small intestines, Hirschsprung's disease, correction of a gastro esophageal reflux disease, a cholecystectomy etc.), and in an urgent order (an appendicitis, a torsion of woman's ovaries, an ovary cyst torsion, peritonitis of stomach and intestine perforations, etc.).
PediatricThoracoscopic Surgery
This is a section of Minimally Invasive Surgery, which allows you to perform operations on the esophagus, lungs, diaphragm and great vessels of the chest. Methods of thoracoscopic approach allow performing operations during the diaphragmatic hernia, achalasia of the esophagus, lung sequestration, and cystic lesions of the lung parenchyma, and meditational tumors with the lowest level of traumatizing.
Pediatric minimally invasive and reconstructive urology
Also nowadays currently available endoscopic and laparoscopic techniques are used. Our specialists provide a wide range of the most common surgical procedures for children: correction of vesicoureteral reflux, of varying difficulty, dissection structures and urethral valves of men, urethral stenting, and removal of stones from the bladder. With laparoscopic the correction of varicocele, fragmentary or total nephrectomy andcorrection of hydronephrosis is made. In addition the Center's specialists have the entire conservative (medical) and surgical treatments of hypospadias and epispadias of men of varying severity (reconstructive pediatric urology).
Center for Innovative Technology in Pediatric Surgery and Urologyis a new stage in the development of children medicine for Ukraine. We know how to minimize the children suffering and the amount of surgeon intervention.
If you search for the expert center in case of pediatric surgery and urology, please, contact clinic "Oberig" and we will find the most suitable decision of the problem for your child. Hospitalization is 24/7. Phone number: 390 03 03.