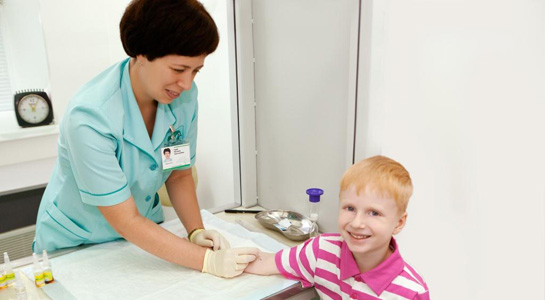 Children's center of Allergy of universal clinic of "Oberig" is the unique clinical unit which turned back to normal life without allergy thousands of little patients. Nowadays allergy became so extensive disease that accurate diagnostic and complex treatment is of particular importance.
Our center of Allergy includes powerful diagnostic facilities of the clinic and possibilities of pediatric service (children's hospital, children's clinic).
How do we get such achievements in diagnostics and allergic treatment?
Accurate allergic diagnostics and allergic treatment:
Going through express test (Phadiatop) allows accurately answer the question: is there allergy or not? There are situations when the symptoms defined as the allergic symptoms and treat other disease.
Going through quantitative and component allergic testing allows with a high accuracy to determine the level of the allergic reaction, shows it in the quantitative indicators.
Diagnostics "cross" allergy – for example, upon the detection of specific children's component will occur allergic reaction on some allergens, e.g "cross" – allergens (birch pollen and apples). Doing some test we get more objective and demonstrative results.
Early diagnostics of innate and obtained states, which can conceal allergic diseases (cystic fibrosis, genodermatoses, reflux diseases, epilepsy and etc.)
Doing provocative tests in that situation, when it is difficult to determine allergic and non-allergic diseases.
Treatment with a help of allergen specific immunotherapy (AACI)
Doing allergen-specific immunotherapy testing – "prick test" conducting provocative tests for the most important allergens.
Component allergen testing to value effectiveness of the possible AACI. With the predicted efficiency- offering of alternative treatment.
Dynamic observation of the children after the establishing of allergic diagnosis.
Clinical examination –monthly mandatory visits for correcting the dose of basic therapy, general evaluation of therapy effectiveness.
To value the effectiveness of AACI-therapy: using objective methods –the control of immunoglobulin's' G4 levels.
To control hormones –dynamic holding of spirography, pear flow meter, rinopnevmomanometry.
Children's vaccination with the allergic diseases or allergic reaction in anamnesis.
Examination before vaccination, predicting the risks of vaccination complications.
Choosing of individual Immunization Schedule for a child with allergen anamnesis.
Individual preparation to the vaccination.
24-hours observation during the day at the hospital (in a difficult prognostic situations) to prevent post-vaccines complications. Besides all, we ensure in case of necessity, the children's treatment with the exacerbation of allergic disease and hospital conditions, including the intensive therapy room.
Such integrated approach to the allergic treatment with a high-powered diagnostic base and allergologist's qualification gives effective results.
Be attentive to your child! Give him possibility to live normal life without allergy.